Picture retakes will be November 9th. We will also be taking pictures for virtual students on this day. We will start at 8 am.

Fall Picture Day will be October15 for PK-11th. We will also be doing Senior Pictures on that day as well. There is a $20 sitting fee for Seniors. It will be due at the time of the pictures. Sports pictures will all be made up on October 22. Forms will be going home with the students early next week.

11th Grade Parents and Guardians: the following note will be sent home with your students today. If you have any input, please take the survey here:
https://forms.gle/uURu9H1Nrxv1f1Y97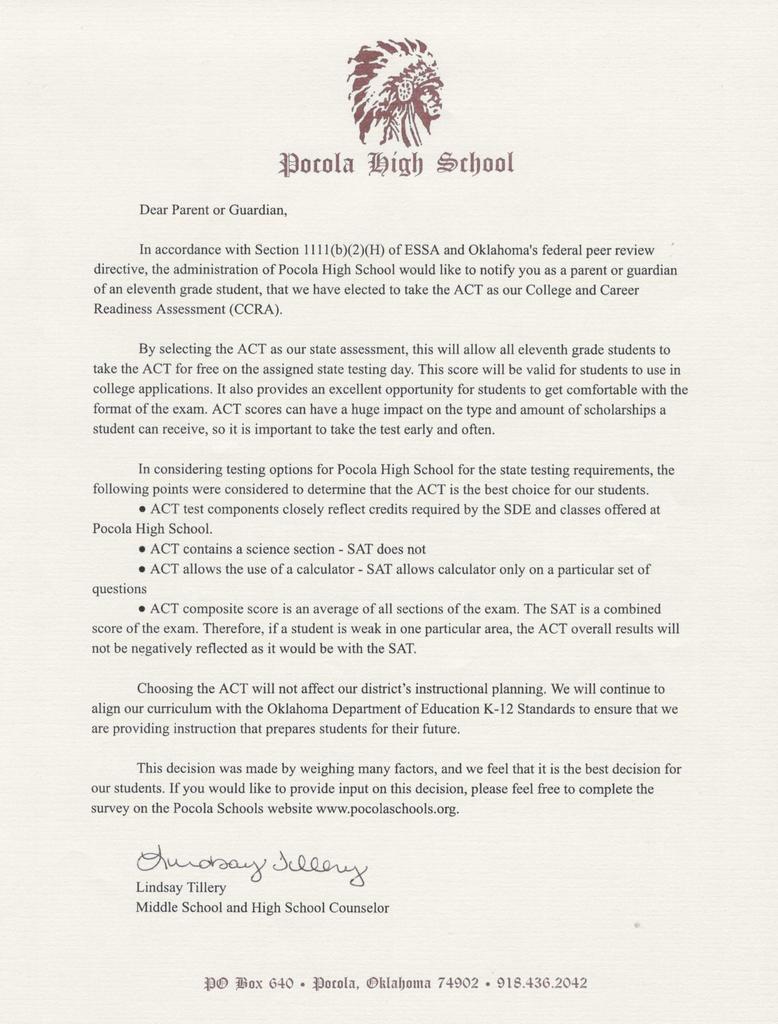 Due to the scheduled Virtual Day on 9/4, Fall Picture Day has been rescheduled to 9/2. Senior Panel Pictures, Softball, Middle School Football, and Middle School Cheer pictures will also take place on 9/2.
Please seen the News about a Pocola Public Schools Survey. Thanks
Please see the Cap & Gown Picture Schedule Form listed under Parent Resources or Our Students

If you would like to buy a yearbook, I have added a coupon code to save $15! I will run this code until school is out. To purchase go to
www.yearbookforever.com
and use the code YB20 at checkout. Thank you so much for supporting our yearbook program!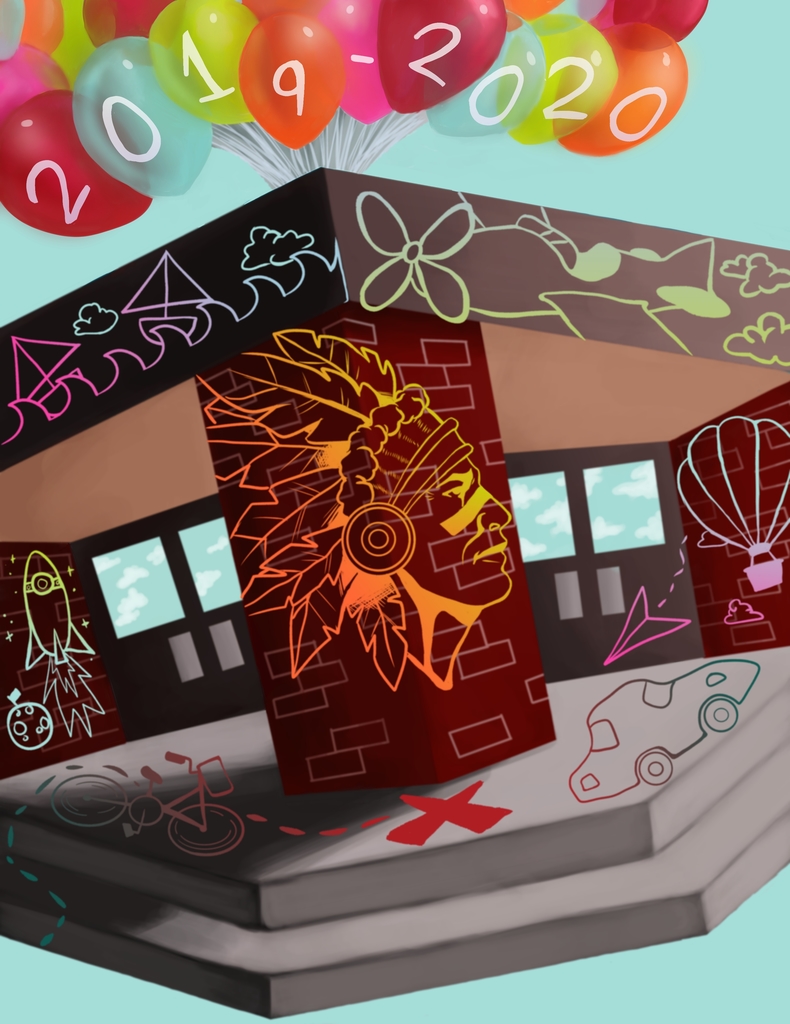 Please see Parent Resources for the latest information.

Track interest meeting will be next Wednesday, January 29th, at 1:30 in the HS Lobby. Parents are welcome to attend.

Cram sessions for National ACT will be held on Monday (12/9) and Thursday (12/12) of next week. 3:30-5:30

Basketball and Cheer pictures are December 5th. Coaches will be passing out the order forms.

Save money on Senior Ads and Yearbooks! Go to
www.yearbookforever.com
Use code Ads20 to save 10% on senior ads and business ads. Use code NOVEMBER19 to save $5 on a yearbook.

ATTENTION: 10TH, 11TH, 12TH Grades Chad Cargill will be presenting an ACT Prep Workshop at CASC-Sallisaw, on Tuesday, October 8, 2019. See more information in the News
The sign up for the Girl Scouts will be at Pocola Elementary tonight at 6pm. Tuesday, September, 10 2019.

Fall Picture Day will be September 3rd.

Senior panel pictures will be taken Thursday 8/22 @ 8:30 am. There is a $20 sitting fee.

Pocola Elementary Back-to-School Dance will be on Friday, August 23, 2019 from 6-8 PM. Admission is $3 for adults and $2 for students. Concession will be available. Proceeds will benefit the 2nd Grade Classes.
If your child receives Indian supplies through the school your gift cards are ready to be picked up at the Pocola Central Office tomorrow August 2, 2019.
This is a reminder to Senior students that you will have Cap & Gown Pictures on Tuesday April 23rd at 8:30 a.m.Don't be late!!!

Parent/teacher conferences are scheduled for tomorrow, Thursday 7th from 4:00-7:00 PM. We encourage you to be active in your student"s education!
Pocola Schools will be in session Friday, February 8. Any Calendar not reflecting this is in error.

Talihina Schools have cancelled classes the rest of the week due to the flu. Our game with them for Friday will be rescheduled for a later date.
The Friday Basketball games at Talihina have been cancelled due to a Flu outbreak at Talihina.

Congratulations to the Lady Indians for their 2nd place in the Leflore County Tournament! Also a big thank you to all staff and stakeholders who helped make the 87th LCT a success . Next time around for Pocola will be the 100th anniversary edition.

Day 4 of the Leflore County Tournament is here! All games at Spiro. Lady Indians play in the semifinals at 8:30!!

Pocola boys play Arkoma at 4:00 at CASC in Poteau today. Games start at Pocola at 7:00 for fifth place.

Night #2 of the County Tournament is underway. The Indians play at Pocola at 5:30 followed by the Lady Indians at 7:00.

The 87th Leflore County Tournament hosted by Pocola Schools is underway! Scores can be found here under Leflore County Tournament tab.

Basketball Homecoming tomorrow (Tuesday) at HS gym at 5:45 PM.

Lockdown drill complete Campus is open and under normal operation. Thank you

This is only a drill!!! Pocola High School is on lockdown alert. No one allowed on campus till further notice. Only a drill

Band concert at 6:30 in the High School gym. Everyone is welcome!
6TH GRADE BASKETBALL GAME FOR TOMORROW DEC. 13TH HAS BEEN CANCELED

Indians now live on Fort Smith Today. Trailing Howe 19-14 at half.

Our absentee phone call system has experienced another glitch and is making calls that are incorrect. We are so sorry for the inconvenience.

The Veterans Day assembly will be tomorrow Friday 9th, at 9:00 AM in the HS gym.

We want to invite all veterans and their families to our Veterans Day assembly. It will be at 9:00 AM in the high school gym. Refreshments after.

Homecoming parade tonight! Parade starts from school parking lot, goes down Faye, enters Pocola Blv. , then back down Pryor to the school parking lot. Starts at 6 PM and lots of candy for the kids.

The Pride of Pocola marching band receives a SUPERIOR rating at OSSAA regional contest in MacAlster! Congratulations to Mr.Allen and his band of Indians!

Flu shots available at 9:00 AM tomorrow at the MIDDLE school. Elementary student must have a parent present. Middle school and HS students must have permission slips signed by parents.

No junior high game tonight. Quinton does not have enough to play.

Lady Indians end their season 10-4. Congratulations to these ladies and our two seniors. It has been an incredible season to remember.

Ladies are trailing 3-2 after 5.

After 3, Pocola down 2-1.

After 2 innings the Lady Indians are tied 1-1 with the Sequoyah Lady Indians.

Pride of Pocola Won our class and beat out 3A and 4A Bands and made finals.. march again tonight!

Lady Indians defeat Stigler 8-7 to finish season at 21-9! First round of regionals begin today at Pocola. Lady Indians play first at 11:00 AM.

Softball game for today is cancelled

6:15 start time Pocola vs. Holland Hall. Weather permitting.

In this process we need to give you a reminder: this message system call ONLY the default cell phone number in the computer. If you are getting this message you are the #1 contact in our system. Your spouse nor anyone else will receive messages. Please contact the office if there needs to be a change.

Because today's football is a district game, we will do our best to get any game time in as possible and safe for our players. We have contacted Holland Hall and have agreed to let our players leave here at 2:00 PM. Once we are on location, if there is a safe window to play ball we will take the field. This could be as early as 5:30. The length of the game will depend on the safety of weather conditions. Thank you for your patience and cooperation in this difficult matter.

As most of you have heard, there is a chance of bad weather for tomorrow's football game. Forecasts show our best chance to play at Holland Hall is to play as scheduled tomorrow at 7 PM. Please be advised that game times and length could be affected.

Lady Indian softball team will be in action tonight in the winners bracket finals at Panama against Poteau. The game starts at 8. The Lady Indians would love to see the town of Pocola come out and support them.

Lady Indians win two in round 1 LCT!

Lady Indian softball defends the county softball title tonight at Panama starting at 4:00 PM.

All school picture day is this Wednesday

JH vs Talihina rescheduled for Tuesday Sept. 11 here at Pocola.

Final 6-2 Lady Indians.

JH football schedule mistake. Game tonight cancelled. Lady Indians softball up 6-2 in 7th

All activities, meetings, or practices are cancelled this evening, Thank you all for patients and cooperation through this issue. We are still holding students awaiting parents.

Lock down still continues. We are discussing how to handle the end of school if it comes to that. Thank you for patients and understanding as we get through this.

School is under lock down protocols. No admission allowed. We will inform you when the all clear has been made.

Today's softball vs Oktaha at home Middle school at 4 JV at 500 HS at 630

Congrats to the middle school softball team for winning the Panama tournament

Reminder: The football scrimmage is TONIGHT at Wilburton starting at SIX!

Lady Indians defeat district foe Spiro 7-0 yesterday to go 8-5. They travel to Antlers today for another district contest. The football team has their final scrimmage at Wilburton.
Bond Election Come out and Vote August 28th.​ Elementary Multi-Purpose Activity Building: NO PROJECTED TAX INCREASE!!!

Lady Indians defeat Antlers 13-5 yesterday. They play a make up game against Spiro today at 3:30.

The Middle School softball team wins 2 on the first day of the Panama Tournament.

Tomorrow's game against Antlers has changed to 5:30 start time.

Lady Indians beat Talihina 11-1 to go 6-5 on the year.

Thank you to the QB club and all organizations that participated in the city wide pep rally Saturday. It was a great event.

Football scrimmage this week will be THURSDAY 8/23/18 at Wilburton

Softball games today at 4 against Tahlina
Senior Pictures will be August 24th. There will be a sitting fee. If you have any questions please contact the High School Office or Counselor.

Softball games are canceled for today

Today's softball game has been delayed. Stay tuned for updates

District Softball game against Valliant will be broadcast on Facebook today at 4:00.

Middle School softball games have been canceled for today.

Softball games at Fort Gibson are still on for today at 5:00

Football scrimmage scheduled for here has been moved to Northside stadium. Start time is 7:00!

Senior Ads They need to be turned in before September 28th. You will save $25 on your AD. Final deadline is November 1st. Late fee of $25 will be applied after the deadline. No ads will be accepted after Thanksgiving.

School is about to start. Seniors if you have not already taken your senior pictures, you need to do this quickly. Senior slideshow pictures/baby pictures are due November 1st. They will not be accepted after this. Please send via cd, flash drive, SD card, or email

Reminder for HS students: First hour STARTS at 8:05 every morning. Please be on time for class!

The softball game with Spiro has been rescheduled for Wednesday, August 22 at 3:30

Today was the 1st day back to school for the teaching staff. Many familiar faces and many new faces this year. The elementary has 8 new staff members, followed by 4 at the high school, and 1 at the middle school.

Softball games have been canceled for today

The Lady Indian softball team finished the tournament going 2-4 against some of the largest schools in the state. 5 of the 6 teams were state tournament teams last year. The Lady Indians were in ever game. Lots of times just a hit away from tying it or taking the lead. At the end of week 1 the Lady Indians are 5-4. They return home to district play Monday against Spiro at 4:30.

Lady Indians defeat Midwest 8-1.

Lady Indians 1-1 today so far. Just beat Moore 5-0!

Lady Indians drop game 2 to 5A Sand Springs 6-0. Play again at 8 PM.

Lady Indian softball lost game 1 to 6A Durant 5-0. Now playing Sand Springs.

Sorry Broken ARROW not Broken Bow. The HS softball team will be in tournament today and tomorrow at Broken Arrow. Sorry for the confusion.

HS softball won yesterday 10-0 to improve to 2-0. The girls travel to Broken Bow for three games today and three tomorrow.

HS schedules will be live tonight on Students and parents' grade book access. Please be advised they are VERY subject to change!

Pocola Lady Indians (1-0)softball team opens the season with a 8-2 win over district opponent Hartshorne Lady Miners. The Lady Indians will be in action again Thursday traveling to another district opponent, the Wilburton Lady Diggers (2-0). Game time is 4:30.
Today's Softball game has been moved to 4:30.

Softball game scheduled for today has been cancelled by Cameron.

First Day of School starts Thursday, August 16th, 2018

Football preseason practices begin August 6, 2018

Pocola Softball begins preseason practices Monday, July 16 at 8 am.

Last day of school May 17th! Have a great summer.

Spring Break!!!!!! Starts Friday March 16th. We will be back in school March 26th. Everyone be safe and enjoy your break.

Spring Sports open up today. -High School Baseball @ Stigler -High School Softball @ Crowder -MS Baseball @ Home -MS Softball @ Wister

Welcome to our new website!

NEW STAFF!! The Pride of Pocola is pleased to announce the addition of two Band Directors who will assist with the HS Band this year! A wonderful band director and an outstanding clarinetist, Ms. Quinn and Mr. Tim Morris!